Experiencing Philosophy begins with the assumption that philosophy is not merely something you know but also something you experience and participate in. The book presents philosophical theories and ideas with reference to their practical relevance to the lives of student readers. To this end, a number of engaging features and inserts are provided:
• Original Sources: Numerous primary readings are included, introducing students directly to the philosophical work of diverse thinkers ranging from Plato to Martin Luther King Jr. Each reading is thoughtfully excerpted and followed by reflective questions.
• Philosopher Profiles: Abstract ideas are connected to the lives of real historical figures through fascinating biographical profiles.
• Take It Personally: To illustrate how philosophy can be useful and relevant, each chapter begins by placing the material in a personal context.
• Know Thyself Diagnostics: This book takes seriously—as did Socrates—the Delphic Oracle's dictum to "know thyself." Students are given self-diagnostics to explore their own philosophical values, ideals, and beliefs.
• Philosophers in Action: Philosophy is something you do, not just something you know. Prompts are provided throughout the text inviting students to conduct thought experiments, analyze concepts, and discuss and debate controversial points.
• Thinking about Your Thinking: These metacognitive prompts require students to engage in higher-order thinking, not only about the presented readings and ideas but also with respect to their own values, assumptions, and beliefs.
• Plus: Built-in study guides, diagrams, famous philosophical quotations, comics, feature boxes, and more!
View a PDF with more detailed information on this book's pedagogical features.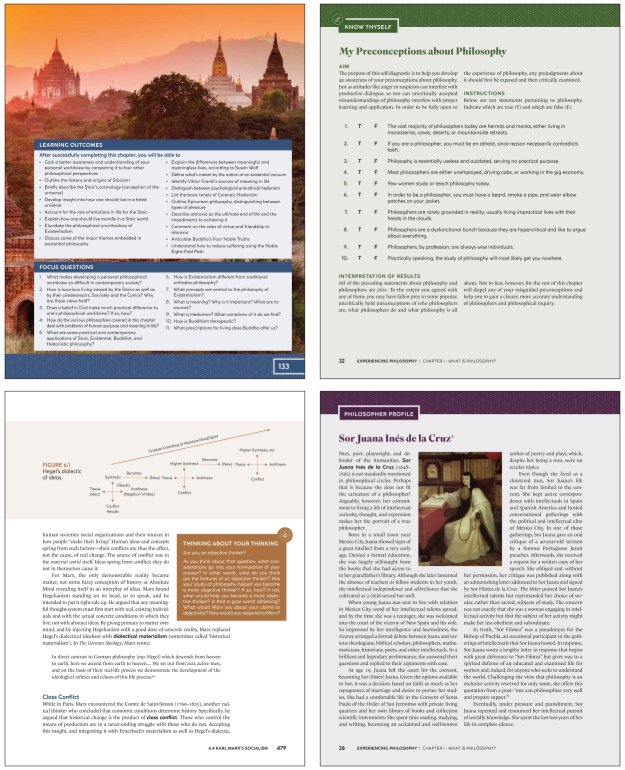 Comments
"Experiencing Philosophy is a long-awaited comprehensive introduction to philosophy that brings the diversity of the philosophical landscape to the fore by introducing students to some widely overlooked but highly significant excerpts from non-Western philosophical traditions. Anthony Falikowski and Susan Mills present a clear, accessible, and argumentative narrative of key philosophical concepts in their introductions to the original sources. Most importantly, they make philosophy applied and relevant to human life. This book undeniably marks a new prospect for teaching and learning philosophy." — Seyed N. Mousavian, Loyola University Chicago
"In a spirit similar to Nietzsche's 'Back to the Earth' and Wittgenstein's 'Back to the Rough Ground,' Experiencing Philosophy does a beautiful job of bringing the practical and therapeutic values of philosophy back to students' everyday lives. Its friendly, engaging, and sometimes personal tone will no doubt attract beginning students into a fascinating journey of philosophizing as living and living as philosophizing." — Puqun Li, author of A Guide to Asian Philosophy Classics
"This is an exceptional introductory textbook. Student-friendly and graphically attractive, the book has many useful pedagogical elements that will benefit readers. It covers a wide range of classic and contemporary issues, thus offering instructors considerable flexibility in their syllabus development and course presentations. Highly recommended." — Mazen Guirguis, Kwantlen Polytechnic University
"Covering classical excerpts from both historical and contemporary perspectives, Experiencing Philosophy does an excellent job of introducing the different branches of philosophy. This book is a one-stop shop for both students and instructors." — Ataollah Hashemi, Saint Louis University
"Experiencing Philosophy is one of the best undergraduate textbooks of philosophy I've seen, both in content and in presentation. Its usefulness spans at least the first two years of study in philosophy, reducing the cost to students who are often obligated to invest in several texts. I was pleased to see that, as well as standard foundational philosophy, this text offers the latest in philosophical developments such as philosophy as therapy." — Peter B. Raabe, Emeritus Professor of Philosophy at the University of the Fraser Valley in British Columbia, and Philosophical Counselor