Costume Design for Salome: Everyone in Yellow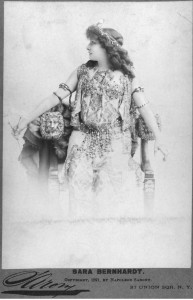 Excerpt from Graham Robertson's Time Was (125-6) (from the Appendices of the new Broadview Edition)
[Graham Robertson designed the costumes for the original production of Salome at the request of Sarah Bernhardt. Both Robertson and Wilde expressed a desire that the wardrobe represent varying shades of yellow. According to Sheldon Weintraub, "yellow was not only the decor of the notorious and dandified pre-Victorian Regency, but also of the allegedly wicked and decadent French novel" (99). Thus, we might speculate that the choice of yellow reflects Wilde's investment in the French cultural context from which the play itself emerged.]
"I should like," he [Wilde] said, throwing off the notion, I believe, at random, "I should like everyone on the stage to be in yellow."
It was a good idea and I saw its possibilities at once—every costume of some shade of yellow—from clearest lemon to deep orange, with here and there just a hint of black . . . and all upon a pale ivory terrace against a great empty sky of deepest violet.
"A violet sky,' repeated Oscar Wilde slowly. "Yes—I never thought of that. Certainly a violet sky and then, in place of an orchestra, braziers of perfume. Think—the scented clouds rising and partly veiling the stage from time to time – a new perfume for each emotion!"
"Ye-es," said I doubtfully, "but you couldn't air the theatre between each emotion, and the perfumes would get mixed and smell perfectly beastly and—no, I don't think I care for the perfume idea, but the yellow scheme is splendid."
More information on Broadview's new edition of Salome can be found here.