Tracking Our Goals: Recycled Paper, 2019
As we did in both 2019 and 2018, on Earth Day this year we'd like to share an update on our environmental goals concerning the recycled and FSC certified paper our books are printed on.
We continue to be reflective about the impact our business has in ways that go beyond the bottom line. We believe that ethical conduct is not only compatible with sound business practices but also an essential obligation for companies such as ours. Our commitment to ethical conduct carries through to all aspects of our operations, from the selection of books that we publish to the choice of paper on which we print those books. We aim to always extend fair treatment to our authors, our staff, our freelancers, our suppliers, the professors who adopt our books, and the students who purchase and read our books; we also aim to minimize our negative environmental impact.
Our use of recycled and FSC-certified paper is an aspect of ethical business practices that we are able to track quantitatively. For many years now, nearly all Broadview books with paper weights of 40lbs or greater (what is considered the "standard" paper-weight range for books) have been printed on FSC-certified and at least partially recycled paper, with the majority of these being printed on 100% recycled paper; credit should go to our Managing Editor, Tara Lowes, for applying this printing policy. As the figures below show, however, while the number of individual titles (including both new titles and reprints) printed on recycled and FSC-certified paper is fairly high, ranging from 84-91% annually, the number of pages printed on recycled and FSC-certified paper is much lower, ranging from 56-66% of all pages printed. The barrier we've come up against is that longer books such as the Broadview Anthology of British Literature, The Broadview Introduction to Literature, and The Broadview Anthology of Social and Political Thought, which have high page counts and are often printed in large quantities, must use very thin paper in order to remain reasonably light and portable. There is very low demand for recycled or FSC-certified paper that is also thin, and to our knowledge it is not available from any Canadian printers. Given this availability problem, it does not seem likely that we will be able to increase the percentage of Broadview pages printed on recycled and FSC-certified paper in the near future, though we remain committed to seeking these options wherever possible.
Summary of printing on recycled and FSC paper (note: prior to 2016 our stats did not differentiate between 100% and 30% recycled paper):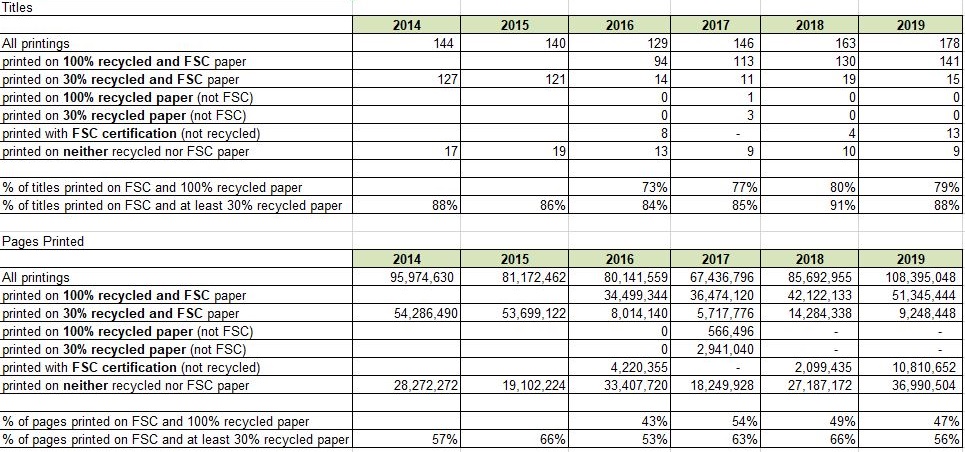 *Please note: we do not have data on titles printed on 100% recycled paper for 2015 or 2014. For those years the "printed on 30% recycled and FSC paper" category should be interpreted as "at least 30% recycled" as it also includes many titles printed on 100% recycled paper.