An Extended Stay at The Grand Babylon Hotel: My thoughts on editing Arnold Bennett's fantasia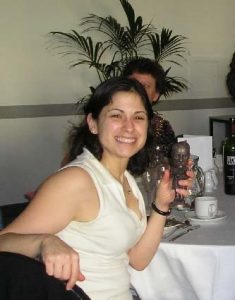 Randi Saloman at the 2006 Arnold Bennett Society Conference at Staffordshire University, holding an Arnold Bennett figurine gifted by the Society, with then Lord Mayor of Stoke-on-Trent Jean Edwards in the background.
[This summer we were excited to publish an edition of The Grand Babylon Hotel.  Our editor, Randi Saloman, wanted to share some thoughts on her journey with the text and the importance of having a scholarly edition of Bennett.]
Editing Arnold Bennett's The Grand Babylon Hotel (1902) was unquestionably a labor of love for me—the kind of opportunity that one imagines, early on in an academic career, will be a regular occurrence, but is in actuality quite rare. My immediate impetus for taking up the task was a simple one. I had begun teaching Bennett's novel in my first-year literature courses with great success, but without a reliable in-print edition. Instead, the university bookstore repeatedly supplied my classes with a low-quality, print-on-demand text, which comically identified the novel as "The Grand Babylong Hotel" on its spine and (less comically) was rife with typos and mis-set passages. Bennett himself had deemed his novel a "fantasia," a term he used to designate the light-hearted serial works he produced for profit rather than literary fulfilment, and publishers had taken him at his word. Even the more acceptable out-of-print versions I could find in used condition came without useful introductions or critical apparatus appropriate to the classroom. Bennett may well have been the most popular writer in England in the early years of the 20th century. But his very fame worked against him when it came to assessment by his contemporaries, or serious critical or scholarly attention. Decades after the publication of The Grand Babylon Hotel, Bennett's first novel to garner widespread attention from reviewers, Virginia Woolf would judge her fellow author to be "a materialist," hopelessly out of step with the times, declaring in "Mr Bennett and Mrs Brown" (1924), that "to go to [Bennett and his fellow 'Edwardians'] and ask them to teach you how to write a novel— how to create characters that are real—is precisely like going to a bootmaker and asking him to teach you how to make a watch." Bennett's work has largely disappeared from publisher' lists in recent decades. Even the few books that are still occasionally read or taught—and generally accepted as having literary merit—The Old Wives' Tale (1908) or Anna of the Five Towns (1902), perhaps Riceyman Steps (1923)—struggle to stay in-print and available. More popular romps such as The Grand Babylon Hotel, which most readers have joined Bennett in declaring amusing but ephemeral, stand almost no chance.
All of which is to say, in wanting to show that this book was something more than one of the numerous entertaining serials that filled early 20th-century daily papers, I was largely on my own. I remember traveling to the UK for The Arnold Bennett Society Conference at Staffordshire University in 2006 to present my initial thoughts on this book and having no clue how I, or my work, would be received. I suspect it was having the good fortune to give my talk to the one audience that knew the book and Bennett well enough to understand and take seriously the claims I was beginning to make that gave me the motivation to continue. [That the Society had the graciousness to seat both me and keynote speaker Robert Squillace, the two visiting Americans, with the then Lord Mayor of Stoke-on-Trent and her consort—explaining to us that she was, in fact, designated as Lord Mayor, her husband as consort, the terms being gender neutral so far as the position was concerned—did not hurt either!] I wanted to share some of the magic that a young Bennett found in hotels. When the Society and the Edwardian Cultural Network co-hosted a symposium on "Arnold Bennett and His Circle" eight years later, I was still thinking (and speaking) about The Grand Babylon Hotel—this time with the edition well underway and numerous questions to pose to my fellow Bennett enthusiasts.
I began teaching The Grand Babylon Hotel regularly in 2009, and I was gratified to watch my students engage with the same questions and conundrums in Bennett that I did. But none of us could get past the all-around awfulness of our actual text. Bennett deserved better, we thought, and so did this novel I had come to feel responsible for, in one way or another. A readable and accurate edition, yes. But more than that, there were whole areas of the novel that required more explanation and reflection than was possible without the kinds of explanations and context I aimed to provide in class. How was the Grand Babylon derived from Bennett's own knowledge of London's Savoy Hotel, upon which it was based? How did it compare with his later treatments of hotels in his fiction—and particularly with his final novel, Imperial Palace (1930), a far longer and more realistic novel also set in a fictionalized Savoy Hotel? What was Bennett doing with the fantastical "Ruritanian" genre he was taking up–a genre named for Anthony Hope's Prisoner of Zenda (1894), which featured the imaginary minor kingdom of Ruritania, and the rescue of its embattled king by a commoner? How, finally, did we read the positive cosmopolitan vision of the novel? The wealthy Americans who come to England determined to buy everything and everyone they like both learn from and teach those around them about the benefit and interest of different ways of thinking and being. Wealth is celebrated in ways that make clear that time is running out for the older models of aristocracy. When the impoverished Prince Eugen is denied the loan he requires by "Court Pawnbroker" Sampson Levi, the tone allows for tinges of nostalgia and classism, but is above all committed to the inevitability—and the new possibilities for romance—of a modern world:
It was a scene characteristic of the end of the nineteenth century – an overfed, commonplace, pursy little man who had been born in a Brixton semi-detached villa, and whose highest idea of pleasure was a Sunday up the river in an expensive electric launch, confronting and utterly routing, in a hotel belonging to an American millionaire, the representative of a race of men who had fingered every page of European history for centuries, and who still, in their native castles, were surrounded with every outward circumstance of pomp and power. (GBH, 174)
Money is the unapologetic solution to all problems that are posed. Nonetheless, one feels the concerns are broader than Bennett's readers—and Bennett himself—gave the work credit for.
Bennett's novel had never been footnoted or annotated in a scholarly way. As a result, designing a Broadview edition was both an extraordinary privilege and a wide-open challenge. It would be impossible to quantify just how much I learned in the course of my editing. From basic facts that shed entirely new light on a given sentence or scene (that "Don't split!"—Racksole's imperative to Nella after purchasing the hotel, is not, as I had long assumed, a demand that she remain calm, but a request that she keep the news to herself; that Consommé Britannia is not a simple English-style soup that Nella is being a bit childish to reject as unsuitable for a summer night, but a stomach-turningly heavy and elaborately prepared concoction of forcemeat, lobster, chicken broth, and assorted other ingredients) to a more nuanced sense of Bennett's fascination with the hotel's hierarchy and operation—the sheer joy he takes in describing the operations of the kitchen or the stock of the wine cellars, for example.
While Bennett's novel likely needed few footnotes for the English audience that read it in installments in the first decade of the 20th century, the same cannot be said for 21st-century readers, particularly those in America or other parts of the world. Much that might have been self-evident about London geography or public transport or customary dress or behavior to the ordinary English reader in 1902 is not so to the reader of 2016, and particularly to the North American or other non-English reader, and it was my goal to demystify such factual information as well as to reflect on the less obvious relevance of such material where appropriate. The Savoy Hotel of London, the model for the Grand Babylon, has its own extraordinary history which helps one to appreciate what Bennett has taken for his own fictional version—and what he has added of his own to the picture. There are many differences between the Savoy of 1902 and today's hotel and between Bennett's Grand Babylon and the then only decades-old establishment. But all go to revealing new and exciting entryways into the novel. Susan Scott at the Savoy went above and beyond the call of duty multiple times in locating archival photos for me, many of which I was able to include in my edition. Like the cover image, these images give some sense of the world Bennett imagined—and played with—in this novel. The Grand Babylon Hotel is among Bennett's earliest works, so while later on in his career there are many pictures and photographs of the author, I am most pleased at some of the less well-known and some of the earliest images that I was able to include from the Potteries Museum, the New York Public Library, and from the University of Illinois collection.
I can't say enough good things about the people at Broadview—from Marjorie Mather, who took on the project, to managing editor Tara Lowes, series editor Martin Boyne, and copy editor Michel Pharand, all of whom pushed me to make the book and its footnotes as strong as it could be. Perhaps what I love most about Bennett's "fantasia" is that in so many ways one would expect it to be hopelessly dated, yet it never seems so in the reading. A wealthy American at a British grand hotel, the culture shock of the two nations coming to a head at the entrance of mysterious royals from a tiny fictionalized German province. The characters are lightly and fancifully drawn, the possession of money is seen as an unapologetic good when legitimately obtained and rightly used. Meetings across class and culture are made with ease, and there is excitement and anticipation rather than fear at thoughts of the new and different. This perhaps, sadly, is the one way in which the novel does show its age. To read of Theodore and Nella Racksole's adventures abroad is to be taken back to a time—perhaps not so long ago as it feels—when it was still possible to see the world as a place of exploration, its many cultures and civilizations offering variety and experience, rather than fear. It is my hope that this edition will allow both students and general readers to explore these broader questions and to engage anew with Arnold Bennett.