Kirsten Lodge's New Translation of Notes from the Underground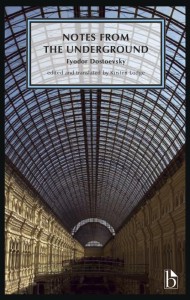 Kirsten Lodge's new translation of Notes from the Underground has been receiving high commendation from academics and readers alike. The following review by Jefferson Gatrall at Montclair State University praises both Lodge's translation and her contextual materials for students:
Kirsten Lodge has performed an invaluable service for modern readers with her new translation of Dostoevsky's Notes from the Underground. This classic novel has long been notorious for its nameless hero, an "Underground Man" whose psychological complexities and philosophical provocations remain as revolutionary now as they once were for Dostoevsky's contemporaries. Lodge manages to capture the full range of the Underground Man's unpredictable rhetoric through subtle style choices of her own. For the extended monologue in Part I, she keeps intact the Underground Man's long, winding sentences in all their cynical and seductive lucidity. By contrast, Lodge peppers the dialogs in Part II—in a restaurant, in a brothel, etc.—with cutting and even vulgar language taken from contemporary American vernacular. Dostoevsky prided himself on his mastery of Russian slang. Lodge not only remains true to the letter and spirit of the original through her well-timed use of such words as "bitch" or "morons"; following in Dostoevsky's footsteps, she also pushes the boundaries of good taste in a way likely to startle readers. The Underground Man, an intellectual recluse, admits that he can sound "bookish"; but he is also an angry college grad working in a dead-end job. Lodge's translation preserves both the rigor and the venom of his hard-hitting paradoxes.
Teachers in particular will find highly useful the historical documents that Lodge includes with her translation, from excerpts of works by Dostoevsky's literary rivals to photographs of the "Crystal Palace"—a cutting-edge London pavilion that provoked the horror of the novelist and Underground Man alike. Dostoevsky wrote his novel in part as an urgent intervention at a very specific moment in prerevolutionary Russian history. For teachers and students, Lodge surrounds the novel with a wealth of fascinating materials for understanding what was at stake for Dostoevsky and his political opponents. Lodge's introduction is especially noteworthy, as it provides what may well be the most clearheaded summary of the novel and its polemics as exists in print. Yet beyond this historical context, Dostoevsky also wrote the Notes from the Underground as a literary experiment, one in which he stretched the conventions of the novel to their breaking point so as to engage the present in as direct a manner as possible. Here Lodge's translation admirably succeeds in conveying all the energy and urgency of the original for a new generation of readers. From his first word to the last, she lets the Underground Man speak for himself.
-Jefferson Gatrall, Montclair State University
For more information about the edition, please click here.