From Print to Digital: Broadview Ebooks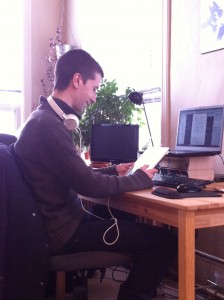 One of Broadview's Digital Assistants proofing an EPUB file.
Several years ago now, we at Broadview decided it was time to begin offering ebooks; as reading preferences became more and more diverse, it became increasingly important that our content be available electronically to meet the changing needs of our readership. Because our books are primarily used as course texts, we knew that it was important to offer them as both PDF files and as EPUB files, as these formats provide different advantages for the classroom. PDFs offer students and professors an electronic version that is in a fixed layout, similar to the print book, and that retains the page numbers and formatting of the printed text; EPUBs offer different advantages: texts are reflowable and adapt to the screen size and functionality of different devices, making them easy to use with a wide range of technologies. EPUBs also allow for greater interactivity and a wider range of features to support learning, including dictionaries, note-taking, highlighting, linked endnotes, and hyperlinks to live web sources.
While we already had most of our titles in PDF format, we needed to send our files to a third-party conversion house to have them converted into EPUB files. With the generous support of the Ontario Media Development Corporation over the last two years, we have converted over 300 of our titles to EPUB so far, sending PDFs out for conversion, receiving the new files, and then putting each EPUB through a rigorous correction process. Our books present us with fascinating editorial challenges as we convert them: our extensive footnotes, glossing, and equations have all stretched the EPUB format to its limits, and we have had to use some creative strategies to shape our content to this new medium. Once a file is complete, we then upload it to our website and to Google Play, where it is available for purchase and download.
Broadview is pleased to offer a wide selection of our catalogue in both EPUB and PDF formats; as reading preferences change, and as classrooms and learning communities evolve, it is important to us that students and professors have access to high-quality electronic versions of our editions and textbooks.
Please click here for more information on Broadview ebooks.
Our ebooks are available on our website: www.broadviewpress.com.